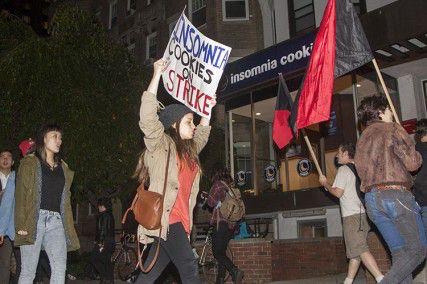 Last October I reported how four heavily exploited night shift workers at a Boston, Massachusetts cookie store had been fired for a wildcat strike, and for their activity as members of the Industrial Workers of the World (IWW). The Boston IWW have kept up significant pressure since then (with one picket violently attacked by police) and have won backpay for the sacked workers plus back pay plus some recognition of the right to collectively organise. The following is a repost from the Boston IWW Facebook page:
Four workers at Insomnia Cookies' Cambridge store went on strike on August 19, protesting poverty pay and wretched working conditions, and demanding $15/hr, health benefits and a union at their workplace. The company illegally fired all four. For the next six months strikers, IWW members, allies, and student organizations at both Harvard and Boston University held pickets, marches, rallies, forums, phone blitzes, and organized boycotts, while workers continued organizing at both the Cambridge and Boston locations. The union also pursued legal charges through the National Labor Relations Board (NLRB).
On March 3, a company representative signed an agreement promising almost $4,000 in back pay to the four strikers (two of whom had given notice before going on strike; and all of whom had moved on to more rewarding jobs or pursuits). The company also agreed to post a notice in the Cambridge store, promising not to fire or otherwise retaliate against workers for taking collective action, including joining the union and going on strike. The company was also made to revise a confidentiality agreement that improperly restricted workers' rights to discuss their conditions of employment with one another and third parties (including union organizers and the media). All references to the terminations have been removed from strikers' personnel files.
"Since the first utterance of the word 'strike' that late August night, it has been an uphill battle for all of us," says striker Chris Helali. "The Industrial Workers of the World answered the call when no other mainstream union was interested in organizing a small cookie store in Harvard Square. We picketed, we chanted, we sang. I thank my fellow workers, the IWW and all of our supporters for their continued work and solidarity through this campaign. I am proud to be a Wobbly (IWW member)!"
Jonathan Peña says, "I remember just feeling real conservative that August night, but something told me to stand up for what I believe in. I had nothing to lose but I had much to gain. Being apart of the IWW means something to me. I will never forget the four amigos, Niko, Chris, Luke, and [me]. We actually made a difference. Being a Wobbly can change your life! I just want to really thank everyone for their solidarity and commitment to crumbling down on this burnt Cookie."
The IWW vows to continue organizing efforts at Insomnia Cookies. Helali says, "I am extremely pleased with the settlement, however, it does not end here. This is only the beginning. The IWW along with our supporters will continue to struggle until every Insomnia Cookies worker is treated with respect and given their full due for their labor. There is true power in a union; when workers come together and make their demands unified voices and actions."
More details of the strike and quotes from the union can be obtained at:
http://iwwboston.org/tag/insomnia-cookies/