Joy in Friern Barnet, but is this 'Big Society' by the back door?
It's
National Libraries Day
. I know this because
#lovelibraries
is trending on Twitter, and because campaigners are debating how to save these treasure houses of knowledge from the blood soaked axe of the coalition government.
There's something just great about libraries. Many people reading this article will have their own special memories. For me, when I was a toddler learning to read and hungry for all the knowledge in the world, they were my first window on life. I would read every minute of the day that I could, and I soon got bored of the relatively few books my parents could afford. But just down the road - within walking distance when I was a couple of years older - there was our local library, which had thousands and thousands of books for free! There seemed to be no limit to what I could learn!
Of course, this is a reason why the ruling class are so keen to get rid of libraries. In the words of 'Bulls On Parade' by Rage Against The Machine, "They don't gotta burn the books they just remove 'em". For those who profit from exploitation and social misery, the ideal scenario is a population who can read just enough to fulfil their work tasks, and not enough to question the social basis of the economic system that is tearing their lives apart. For that reason, the very existence of a library shows the potential for a better way of life.
This week has seen two big stories in resistance to this part of the government's austerity agenda. On Tuesday, campaigners fighting to save Friern Barnet library in London
declared victory
, when the council apparently gave permission for it to be run by members of the local community. Council leader Richard Cornelius declared that money suddenly had been found, meaning that the activists who had been
squatting and operating the library since last September
could stay, as the council no longer needed to sell the building.
All this is clearly rubbish. The council intended to sell the library building, but a widely-supported direct action campaign showed them up, and the alternative was an embarrassing police-led eviction. The grant of £25,000 has not just been discovered down the back of the council sofa either. The people of the Friern Barnet area will still have a library resource to use. Yay!
However, Friern Barnet cannot be described as a complete victory. The paid librarian jobs that went last April will not be replaced, so the library will be staffed by volunteers. Ironically, the new Friern Barnet library
will fit the government's 'Big Society' rhetoric very nicely
. Not only is this a blow for the people who lost their jobs, but the medium and long term viability of the library must remain in some doubt. Unison - who claim to represent 24,000 library staff across the country - have not lifted a finger in practical terms, and much of the responsibility for closure after closure lies with the Unison bureaucracy.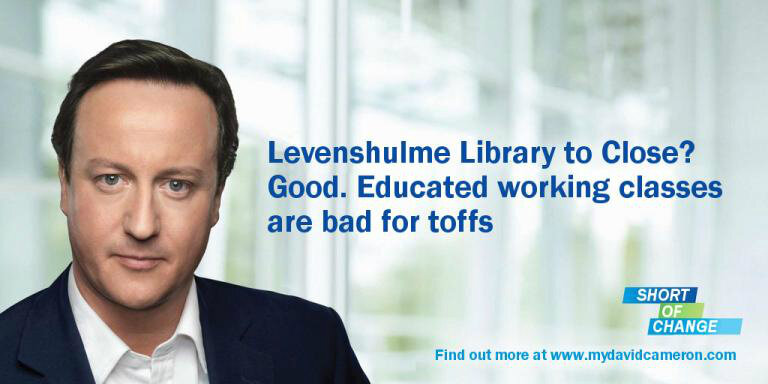 A meme produced by a Levenshulme protester
Just last night, around fifty users of a library in Levenshulme, Manchester refused to leave at closing time, and staged an occupation til past midnight, defying police threats of arrests for 'aggressive trespass'. The
Manchester Evening News reported that
:
"Council bosses have dismissed the move as a 'stunt' and urged residents to take part in their consultation instead. Under the town hall's latest £80m savings plan, both Levenshulme library and baths will shut later this year."
The council's arrogant dismissal of the occupation is typical of local authorities' uncomprehension and fear of direct action, especially when combined with pleas to take part in the dead end of rigged 'consultations'. Hopefully last night was just the beginning of what participants dubbed their 'Levelution'.
According to
Public Libraries News
: "
341 libraries (296 buildings and 45 mobiles) are currently under threat
or have been closed/left council control since 1/4/12 out of c.4265 in the UK." Just the other day,
Liverpool council announced that
: "Consultation will be held over having a smaller network of [library] buildings and some services may be delivered by other organisations from 2014/15."
If we are to build a national anti-cuts movement - and we must - then service users must play a big part. The example of Friern Barnet shows what can be achieved. But if jobs are to be saved, workers will need to take a central role, and Unison's is not the only bureaucracy sitting on their hands. Affected workers need to seize control of their own struggles, and call on the wider community for solidarity.