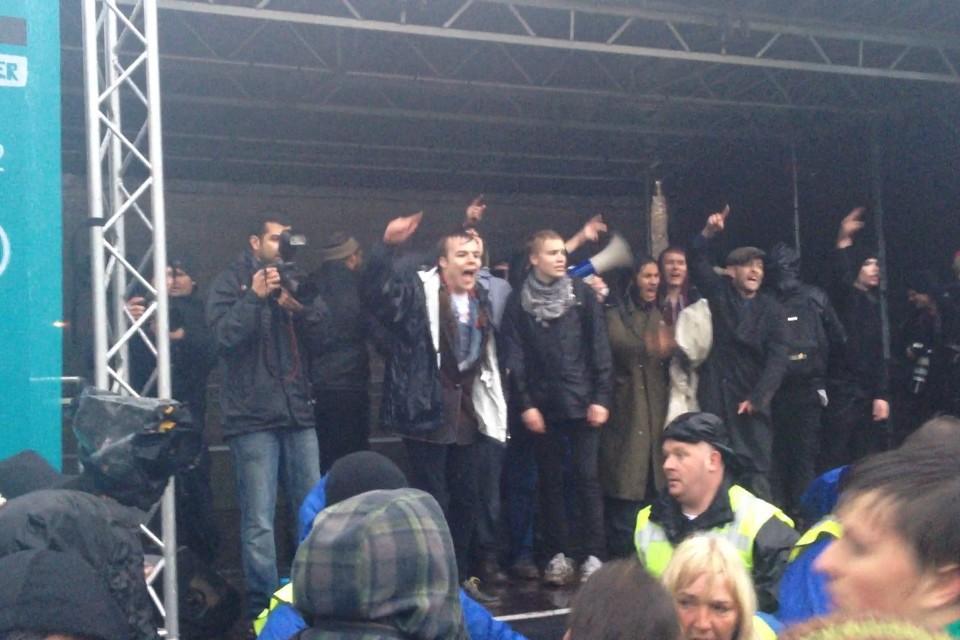 Angry demonstrators forced their way onto the stage at the rally
National Union of Students President Liam Burns was
booed, egged, and then forced to run for cover
by a stage invasion at the end of the union's London march against tuition fees and education cuts.
Labour Party supporter Burns was addressing students who had followed the NUS route from Victoria Embankment to Kennington - far from where politicians were debating. As the crowd made its way through cold November rain, frustrations had become apparent from
increasingly angry posts on Twitter
.
When Burns took to the stage in Kennington Park to chants of "Liam Burns, shame on you, where the fuck you lead us to?", he was pelted with eggs and a satsuma, before twenty forced their way through barriers and onto the stage, at which point the mic was cut. After all the NUS talk of students ensuring "our voices will be heard", this was the ultimate irony.
The march route had been negotiated between the NUS and Metropolitan Police, both of whom were anxious to avoid a repeat of December 2010, when the police lost control of the streets, and the Conservative Party HQ was overrun. As the demonstration snaked its way through London streets this afternoon, there were complaints that NUS stewards were acting in a way that was indistinguishable from the police.
Metropolitan Police - brought to you by the National Union of Students
Activists from the more militant
National Campaign Against Fees and Cuts
(NCAFC) had hoped to break through into Parliament Square, but after a brief stand-off it was clear that the balance of forces lay with the forces of reaction. There also a brief sit-down protest on Westminster Bridge - the very point where Burns wanted to lead the demonstrators away from the seat of power.
As
Johnny Void wrote in his excellent write-up
:
"A demonstration is exactly what it says. At best this means a demonstration of power as people organise together to take direct action, strike, riot or generally fuck shit up. At worst it can be a demonstration of passivity – a signal to the state that should they continue along the same path then actually no-one will bother to do much about it."
The ruling class was taken aback by the
explosion of student anger in winter 2010
. It has since taken measures to reinforce its repression - witness the
'total policing' of the 2011 demo
- especially at the point it met up with militant electricians in struggle - and the highly restrictive routing of today's march. At this stage, an effective fightback must necessarily up the ante.
NCAFC have declared December 5th a day of action, coinciding with Chancellor George Osborne's Autumn Statement to the House of Commons.