This is Corrosion of Conformity alright, but it's a lineup which hadn't recorded together since Animosity came out in 1985, when I was four. Grizzled veterans they may well be, but they all still know how to craft great deep southern rock, and the lyrical themes show they are far more in touch with everyday concerns than almost all of the kids promoted by the labels.
This is a brooding, moody and bluesy album, which blatantly worships at the altar of
Sabbath
, but mixes things up with breakneck hardcore worthy of the band's punky roots.
Woody Weatherman
(gotta love that name) on lead guitar puts in a career best performance, and there's a raw imperfection about
Mike Dean
's vocal delivery which drips authenticity.
It isn't all great.
Leeches
and
What You Despise Is What You've Become
should probably have been cut at the demo stage, but when this release hits its plentiful peaks, there's not a band in the world who could match this sound.
Psychic Vampire
catches the listener unawares right at the beginning, with its choppy changes of pace and discordant sound. The words capture the essence of the album - assailing the powers that be fucking up our lives ("From the pulpit the puppet's mouth is infested with suggestion").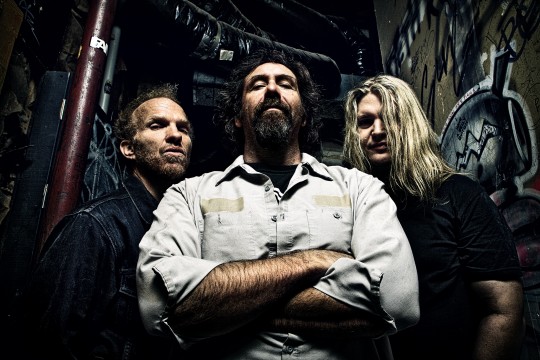 Your Tomorrow
swings from...well...something like swing to angry, bitter rant at those who "brought this world of sorrow" and yes, "sold your tomorrow", while standout track
The Moneychangers
sticks it to the bankers ("They'll tap your labor and your light") with a vituperative elegance, and the brilliant video (below) is well worth watching.
There isn't really much hope to be found amongst the ashes of the society as described on this album, and though some of that will be essential for the ultimate austerity era album, it would almost be strange if a band like Corrosion of Conformity offered us much at this stage. But listening to this eponymous effort is like listening to an evocation of all that is bad in the world right now...in a good way. When I listen to the best bands I often wonder what it would be like to get drunk with them, and I'm sure I'd enjoy setting the world to rights over a long summer evening and a few jars with these guys.