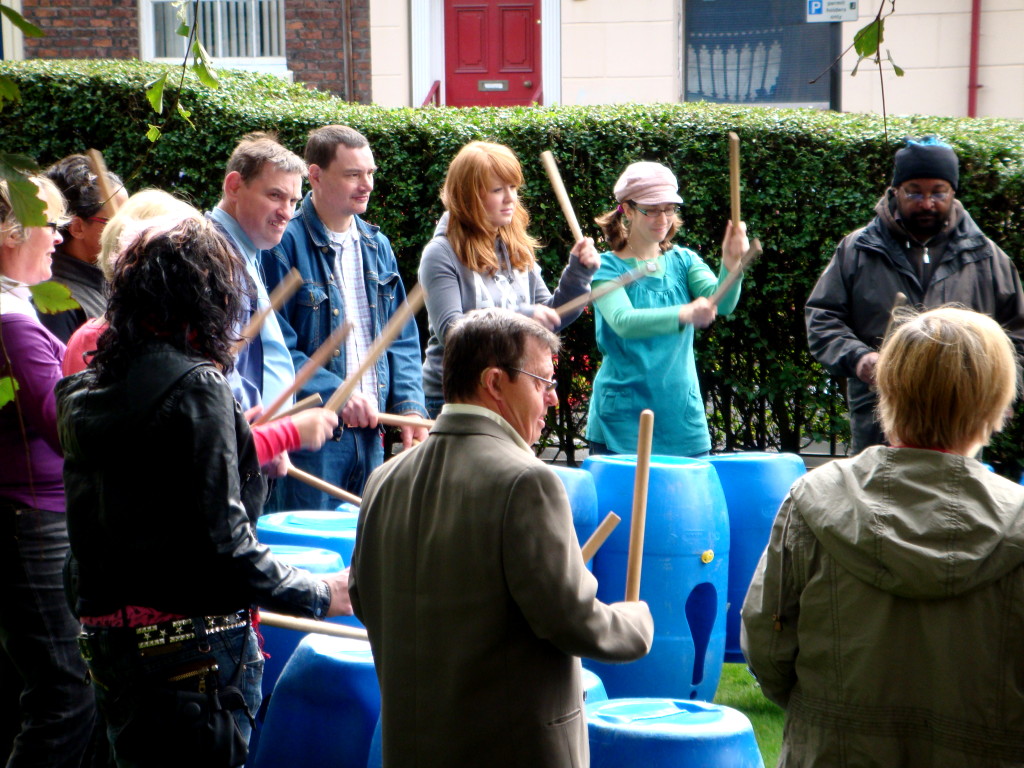 Liverpool's Urban Strawberry Lunch has been sacrificed to pay for bankers and war
Arts Council England has announced that it will be
cutting funding for more than two hundred cultural organisations
from 2012. The losers include theatres, galleries, and artist groups, all of which now face an extremely uncertain future. This comes after the coalition government
cut the Arts Council's budget
by £100 million in the Comprehensive Spending Review. Thousands of cultural practioners now face ruin, for the cost of two Apache attack helicopters, or 10% of this year's bonuses at RBS - the state-owned bank.
At a time when many are struggling to keep a roof over their heads and food in their stomachs, arts cuts may seem like an almost trivial matter. Yet ever more artists are amongst those battling to make ends meet. Also, access to culture is essential for a full life, no matter what economic background a person comes from.
Big name losers included the
Royal Shakespeare Company
, the
Royal Opera House
, and the
National Theatre
, which saw their budgets slashed by 15%. The
English National Opera
lost 10%, the
Almeida Theatre
39% over three years, and 42% for the
Institute of Contemporary Arts
.
For smaller scale projects, the effects could be even more devastating. Liverpool was the '
European Capital of Culture
' just three years ago, but the
Bluecoat Display Centre
,
Spike Theatre
, the
Windows Project
and
Urban Strawberry Lunch
will now be forced to consider their future after losing their funding entirely. The hugely popular
Africa Oyé
festival has lost 10%, the FACT exhibition space and cinema 11%, Everyman and Playhouse theatres 4.9%, and the Royal Liverpool Philharmonic 11.1%.
The government has suggested that such organisations approach 'philanthropists' - i.e. immensely wealthy people who would turn the groups into their own personal playthings. In many cases, prices will have to increase, further deterring working class people.
In a way, the catastrophic cuts to art and culture are of a piece with the government's 'Big Society' concept. Subsidies to non-profitable organisations will be slashed or abolished, while those who want to keep them afloat for the benefit of society as a whole must pay out of their own pocket, or donate their time for free.
Arts organisations are often seen as elitist by large numbers of working class people, and this is a challenge. This will only be overcome by a general radicalisation in art - away from navel-gazing psychology or bland postmodernism, and towards a vivid depiction of society as it affects the immense majority.
In the words of Emma Goldman, it is necessary to stand with
"freedom, the right to self-expression, everybody's right to beautiful, radiant things." As a step towards that, we must oppose cuts to arts organisations, just as we oppose cuts to the health service. Both are essential for a the promotion of a fully, health and happy life.